If you're considering a move into an assisted living facility, you may already be looking at possible locations that are close to your home or loved ones in Washington State. While being near at hand is a convenient choice for visiting and socializing, make sure you vet each community thoroughly before making your choice.
We have compiled the ultimate list of tips and questions to ask during your tour to help you find the perfect Washington assisted living community for your personal situation.
What to Do Before Your Assisted Living Interview
Determine Level(s) of Care
Once you've made an appointment with an assisted living community, determine the level(s) of care you may need. While you may be independent and active now, you should determine what both current and future needs are/may be so that you can ask the appropriate questions. Determining proper levels of care will help in planning future financial decisions as they arise.
Prepare Questions
Understanding all aspects of a potential assisted living community is important for both you and anyone who accompanies you on the tour and preparing questions for the staff ahead of time will make the process easier when it comes to making a decision.

Here are the top questions to ask, compiled from frequently asked questions we hear during assisted living tours at Daystar.
Assisted Living Questions Pertaining to Residential Life:
Assisted Living Questions Pertaining to Staffing
What level of education is required of assisted living staff?

What training is required?

Are there specialists on-site?

Do you do background checks on employees?
Assisted Living Questions Pertaining to Cost:
How is the base rate set?

What is included in the base rate?

Can I pay for additional services?

Is there a security deposit or entrance fee?

Are there any pet fees?

What financial assistance do you take?

What other levels of care are offered and how much do they cost?
What to Look for During Your Assisted Living Community Tour
In addition to your questions, while on your tour, it is important to be observant of every detail. The best way to get a feel for the community is to simply observe the ongoings while you are there.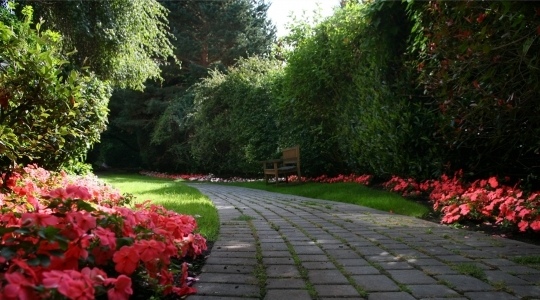 Here are some things to pay attention to:
Observe/talk to some residents




Do they seem happy? Pay attention to their grooming and overall appearance.

Look for cleanliness




Check the baseboards and corners and follow your nose. Make sure the

common areas are clean and comfortable

and odors aren't masked by heavy scents and sanitizers.

Eat a meal


Join the residents in the common dining room (if able) and ask for a copy of the menu. Make sure there's a variety of daily choices, ensure that the food is well prepared, and watch to see if the residents enjoy their meals and the companionship of others.

Tour an apartment


Make sure the living quarters are comfortable and easy to maneuver, with privacy yet accessibility to staff

Watch the staff


Employees at an assisted living community are vital to the happiness of the residents. Note whether they treat the seniors with respect, take the time to listen, and interact naturally rather than with a forced demeanor.

Does the community staff seem to truly have a relationship with each resident?

Sit in on an activity (if able)




Whether it's a senior movement class, craft session, or group game, you should sit in on an activity and see how much residents

interact

and enjoy their time.




What to Think About After Your Assisted Living Tour
When you return from your tour, set aside time within the next couple of days to regroup with anyone who toured with you and compare notes, thoughts, and feelings. Gather the notes you may have taken, and consider things like:
Answers to Your Questions
Review the answers the staff gave in response to your questions. See if everyone on your tour is on the same page as to how their answers made you feel and go from there. Compare notes and opinions and be sure to actively listen to all points your trusted tour group is making. 
Thoughts on the Tour
Did you notice specific things that impressed you? Did your loved ones notice any things that concerned them? Be sure to ask them what they liked and disliked about the community you toured and take into consideration the observations you may have made during your tour as specifically as possible.
Discuss the Cost
Before deciding on a place to live, you must consider what they can afford. Have a discussion about the cost of living in the community you toured, and decide how long you could afford to live there.
After you figure out the base cost and any additional services and expenses you will have to pay, you can calculate the total cost of care in each assisted living center. This figure will allow you to determine what you can afford. Once you have these questions answered, you can begin to narrow down your options. 
Deciding on an Assisted Living Community in Washington
After you have discussed your tour experience with the people who accompanied you on the tour, you may feel ready to start your new life in assisted living and make a decision about a facility.
At the end of the day, trust your instincts. If a community looked, smelled, and sounded great but you have a nagging feeling there's something off, you're probably right. You don't have to remove it from your list immediately but mark it as requiring a more in-depth look at a later date. Don't get discouraged, and don't give up until both you and your loved ones feel as though you are making the right choice!
Daystar Village offers top options for independent retirement living and assisted living in Seattle. You will feel the difference in a quality facility the moment you step inside. Reach out today to schedule a tour of Daystar Village.