Originally published in June 2013; revised and expanded in May of 2019
Here's the thing about low impact exercises: they can have high impact results, especially for seniors.
Movement has so many benefits. Researchers have shown that regular exercise can boost memory, metabolism and, of course, mobility. (Not to mention, exercise helps combat depression in seniors.)
We think being active should be fun. Eating good food isn't a chore, and moving your body shouldn't be either. At the same time, you don't want to jump into an activity or exercise that could trigger old injuries or create new ones. The goal is to move gently, but regularly.
Here are some low impact exercises that accommodate that goal:
---
Jump to:
---
Tai Chi for Seniors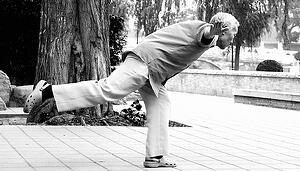 Tai chi is a perfect example of body movement that is low impact, but high value. With flowing movements and, often, relaxing music, tai chi is a great way to strengthen the body and calm the mind. Tai chi benefits for seniors also include improved balance, arthritis pain relief, and reduced stress.
Balloon Volleyball for Seniors
At the other end of the spectrum is balloon volleyball. Soothing music is replaced with laughter and the thwack of hands slapping balloons. Trying to keep the balloon in the air while sitting in chairs is a great activity for improving balance, reflexes, strength, and even cardio function. Plus, it's fun.
Swimming for Seniors
Swimming is an excellent exercise for seniors because the buoyancy of water supports joints and relieves pain. Swimming also boosts flexibility, muscle strength, heart health, and mental health.
Stretching for Seniors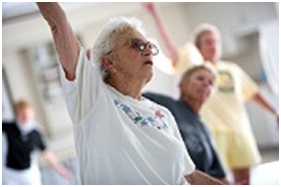 Mobility often becomes difficult for seniors, so routinely stretching is a doctor-recommended way to combat arthritis and back pain, reduce the risk of falling, improve posture, and increase blood flow and overall energy levels.
Almost every muscle has its own stretch, but here are some of the most important ones:
Quad Stretch - While standing up or laying on your side, bend one knee and bring that foot up toward your back and hold on to it with your hand. Hold for 25 seconds or until you feel discomfort. Repeat on the other leg.
Back Stretch - Put both hands behind your hips and gently bend backward to look up at the ceiling. Hold for a few seconds or until you feel discomfort, then repeat a few more times.
Tricep Stretch

- Use one of your hands to push the opposite arm's elbow behind your head and hold for 25 seconds or until you feel discomfort. Repeat with the opposite arm.
Walking for Seniors
One of the best low-impact activities is simply getting out the door and going for a walk, and residents of Daystar have abundant opportunities to do just that, both on and off campus. There are surprising benefits to walking every day!
A great way to get some walking in at Daystar is to have a shopping day. All our apartments are mere minutes from Westwood Village Shopping Center, where you can window shop through dozens of retail outlets on your way to a great cup of coffee.
Looking for a walking buddy? Check out the Best Dog Breeds for Seniors.
Turn the other way and you'll be headed for the natural beauty of Roxhill Park, the headwaters of Longfellow Creek. Less than a mile away is Faunteroy Park, with a network of paths and trails that are perfect for hiking, dog-walking or strolling with a friend. In fact, Daystar residents are less than a mile from several other lovely parks, including the gorgeous views of Westcrest Park, Lincoln Park and E.C. Hughes playground.
For the enthusiasts, we have a Walking Club that meets regularly for some brisk exercise, good scenery, and socializing. Daystar also provides complimentary transportation for the Walking Club's monthly outing to new nature areas and walking trails.
Elliptical Exercises for Seniors
The elliptical machine is a no-impact exercise that causes minimal strain on the joints but is nonetheless a great cardio workout. It's also a good exercise for controlling weight and improving balance, while still working the entire body!
We encourage all elliptical users to stay hydrated, keep a firm grip on the handrails, and pay attention to their heart rates to be safe. And if you're new to this exercise, as with any exercise, start slow!
Balance Exercises for Seniors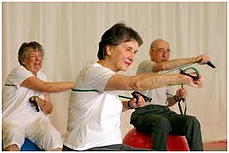 Falls are a common cause of injury for many seniors. Balance exercises are simple ways to improve coordination to help prevent accidents while staying active.
Here are some examples of our favorite balance exercises:
Balance Walking - Balance walking is a way to improve your balance by merely walking in a mindful way. This involves lifting your arms to shoulder height and slowly walking forward in a straight line, lifting your leg one at a time and holding it up for a few seconds before stepping, as you keep your head focused on one point in front of you.
Walking Heel to Toe - This exercise is very similar to balance walking except that instead of holding your legs in the air one at a time, you simply place them one in front of the other, heel touching toe.
Standing on One Foot - This activity involves firmly planting one leg on the ground while lifting the opposite knee straight up in front of you for an extended period of time, while holding on to something sturdy for support.
Chair Exercises for Seniors
Some of the best exercises, it turns out, don't even involve getting out of your seat. Chair exercises are some of the best physical activities for seniors that are low impact on the leg joints. For these exercises, the person stays seated while moving the torso, arms, and legs to improve flexibility and work different muscle groups.
Examples of chair exercises that are great for seniors include:
Tummy twists - Sit with good, upright posture. Hold a small exercise ball against the chest, with both hands and with elbows outward. Slowly twist your torso left while keeping your posture. Then twist to the right. Repeat several times, or until you experience discomfort.
Knee lifts - While sitting with good posture, slowly lift the left knee to the chest and then slowly lower it back down. Repeat with other knee to do one set. Stop after a few more sets or when you start to feel discomfort.
Overhead arm raises - Sit upright in an armless chair with a 1-pound weight in each hand, with your arms bent at your sides and your palms facing up. Slowly lift the weights over your head without changing the angle at which your arms are bent. Briefly keep them above your head, then slowly lower them to their original position. Repeat 8-10 times or until you experience discomfort.
Stay Active at Daystar
It's harder to get exercise (and stay hydrated) as you get older, but low impact exercises and balance exercises make it much, much easier. You want to stay away from things like heavy lifting. This is why our retirement community recommends exercises like these, that seniors need and can engage with most.