If you're ready to move to an independent living campus you're most likely downsizing and might be wondering how to make the most of a smaller living space. By planning in advance and using your creativity you can quickly turn your new apartment into a comfortable home. Here are some tips to get you started: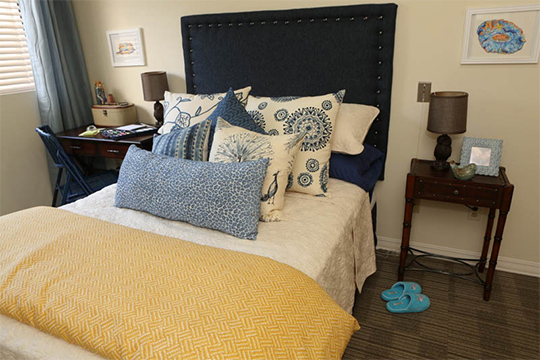 Measure the rooms in advance.
As soon as you decide to make the move take measurements of your new rooms. Make a rough drawing of the floor plan and add the wall measurements and you'll be able to visualize what furniture will fit in each room.
Don't sweat the small stuff.
If you're not sure whether to keep certain pieces of furniture put them in storage and decide later. It's easier to add than to remove furniture from a crowded room, so wait until you're settled to decide about those matching end tables or vanity.
Be creative.
Apartments are sometimes short on storage, so see exactly what you have to work with and consider ways to modify. Shelves and closet organizers can help make the best use of a smaller storage area, and storage tubs can help organize seasonal items and similar seldom used items.
Choose your colors wisely.
Contrasting colors can help those with eyesight problems, and some colors such as greens and yellows are more healing than other colors. Make sure your new rooms are well lit and use nightlights for better visibility.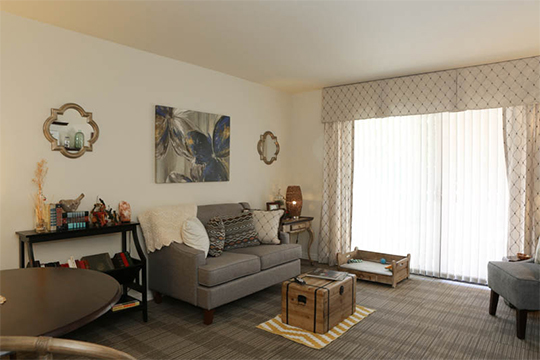 Choose safer furniture.
Avoid tables made of glass and those with sharp corners, or consider adding clear corner protectors to your square tables. That way you won't have to worry about hitting a sharp corner when you walk into an unfamiliar room.
Skip the busy patterns.
Keep the décor simple and soothing and you'll find it more peaceful and comfortable. Consider adding shelves to contain your mementos to one area, and arrange family photos in an easy-to-see display on a wall or table.
Perk it up!
Add colorful throw pillows and throws, favorite artwork or decorations from your home, or craft items your grandkids have made. Familiar items will help turn your apartment into your home much faster.
Splurge a bit!
Buy new sheets and bedding sets; change the drapes or shades to ones of your favorite color, get a new shower curtain set, and buy a few things you've always wanted but never got around to getting. Before you know it you'll feel right at home, and that's great because you are!