Despite the additional precautionary measures Daystar staff and residents are taking for their health and safety, retirement campus life hasn't come to a complete standstill! We like to have fun while keeping it safe, and so do our residents. Here's just a bit of what we've been up to lately...
Taco 'Bout a Fiesta 🎉
Activities Director Tammy and Nurse Keri went room to room on Cinco De Mayo serving "Mockeritas" and chips with guacamole.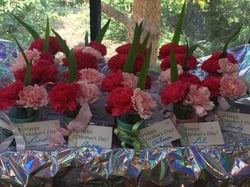 Mother's Day 🌺
We know it's been difficult being away from family, so on Mothers Day, each female resident received a beautiful bouquet of flowers to remind them how special they are!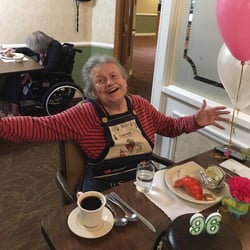 Birthday Celebrations! 🎈🎂
We recently celebrated Daystar resident Aileen's 96th Birthday!
Our residents receive a special dinner on their birthday, and for her special day, Aileen chose lobster tail!
Drive Through Parade!

🚗

🐶
This drive through car parade visited Daystar on Thursday, bringing smiles and funky looking cars adorning custom paint jobs and other fun ornaments. Bonus: puppy passengers!
Super Staff 💥
Of course, none of this would be possible without the dedication of our amazing team. Though they may have dressed up for one day, this is how we view them each and every day!

We can't say THANK YOU enough for everything they are doing to care for residents and the community right now.
Food's Ready! 🍽
Meal time has always been a foundation in keeping residents connected to each other, and we have worked tirelessly to ensure that can still be done safely, and in a socially-distant manner.
Staff member Eden, shown here, helping Daystar resident Lois with our COVID-safe dining experience.
Staying Connected 🖥
Our technologically-savvy team has been helping keep our residents connected with family and friends near and far.
Shoutout to Resident Care Coordinator Amber, seen here helping a resident with a video call.